Using Quickbooks for Real Estate Investing, Tenants & Properties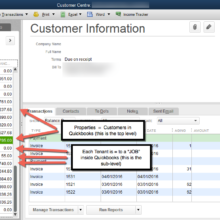 The best way I know how to use Quickbooks for real estate investing is following the Accountant-in-a-Box guidelines.
So this month I am welcoming a new tenant to a property I own, and I want to track her in Quickbooks as well.
The way to do this in Quickbooks is simple:
Here's how to use Quickbooks for real estate investing and recording tenants
The first thing you'll do is add your property.
To do that, you'll add "new customer" in the customers window: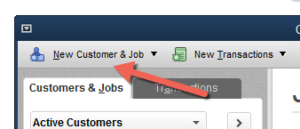 Yes – a property is defined in Quickbooks as a "customer".
This is the top level, because each customer in Quickbooks, can have a job associated with it.
And, you guessed it; a "job" is going to indicate our tenants.
In other words, each property can have several tenants. Which is exactly the same as each "customer" can have several "jobs."
So you may be wondering "Joey, I don't have a multi-family property, I have only one tenant per property."
Well, you're like me – but it doesn't mean we ignore tracking them, right?
When a tenant moves in, they become the current "job". In Quickbooks, you can select if the "job" (read: tenant) is in progress, closed, pending…whatever. You can edit the job status to say whatever you want.
By the way, notice in the screen shot the "Job Name" and "Customer" – those are the levels I mentioned earlier, so you can see how easy it is to keep things organized.
Here's another shot of the Customer window with properties and tenants listed:
The one thing I want to stress is that the multiple tenants listed under each of my properties are not "active" tenants.
Because I don't have multi-family properties, only 1 tenant is active at one time.
However, I can easily go back to see anyone's history – plus, if a tenant moves out in the middle of a tax reporting season, all the data is there for the reports.
SUPER easy!
If you're wondering, you can make a really old tenant in-Active so your list isn't bogged down with old information. You'll never lose that information, you'll just hide it.
Amazing, right?
By adding Accountant in a Box, learning how to use Quickbooks for real estate investing has never been easier.
Hope this helps you understand a bit more how Quickbooks and Accountant in a Box together makes your real estate investing bookkeeping simple, easy and powerful!
Let's keep the conversation going – did this help? Do you have any questions?