Successful Real Estate Investors Story: Vaughan Jazyk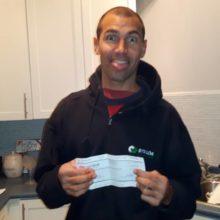 Today's successful real estate investors story comes at the perfect time.
Because it's Christmas 2016.
And what better way to celebrate FREEDOM?
I'm guessing if you're reading this, FREEDOM and WEALTH are also big "wants" in your life.
Well today I'm blessed to celebrate another step toward freedom with one of my VIP high-level coaching clients Vaughan Jazyk and his wife Monika as he picks up his LAST "normal" paycheque."
When we started working together two years ago, Vaughan told me that he wanted to get out of his grueling day job.
Just like a lot of people I meet tell me.
So he worked his ass off.
He barely ever complained.
And he reached his goal today.
Vaughan has accomplished something most people will only talk about.
But here's something you don't know.
He isn't "rich" yet.  He doesn't have 100 doors or something crazy like that.
He took a LEAP OF FAITH, and quit his job.
Vaughan let go of something that was draining him – every-damn-day.
And that's what most successful real estate investors do.
He did it to commit to a better life.
Because Vaughan and his wife Monika totally believe in themselves.
Again, something that most people talk about – but never act on.
Why?
Because it's INCONVENIENT to leave our jobs BEFORE we are millionaires.
Which is why most people NEVER get anywhere.
Here's the other key component of successful real estate investors:
He also got here by serving others first.
If you're in the real estate space, you may already know Monika and Vaughan – but they've been helping real estate investors since day one as their purpose with RPI Investments.
And when we help others first, we get more of what we want.
Today, Vaughan steps into his new role as a full time mortgage advisor and specialist for real estate investors, while they both continue to build their own real estate portfolio with properties so they both can stay home now with their kids and enjoy life the way it should be.
So help me congratulate another successful client and colleague for reaching a MAJOR milestone in their life.
And I only wish the same for you!