6
What's a Real Estate Joint Venture?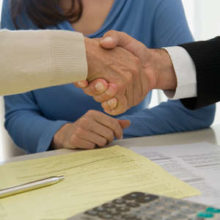 Let's say you have a full time career but want to invest in Real Estate.  You don't have the time for due diligence and seek smart investment opportunities.
You probably don't want to deal with tenants or other rental property maintenance, so you're looking to find out about a real estate joint venture.
The Real Estate Joint Venture Defined
A real estate joint venture or JV is when two or more parties come together for a real estate transaction.
In most cases there is a 'money partner' (MP) who is financing the real estate investment.  They put up the initial capital to buy the property and a 'real estate expert partner'  will take care of finding and maintaining the real estate investment from start to finish.
In this typical structure (but not limited to) both parties own half of the investment return and asset.
The real estate expert does all the work for the term (which is usually three to five years) while the money partner enjoys their freedom – WITH the security of a true hands-free investment.
When the term is over, the asset is sold and the jv money partner receives all of their initial capital first.
The left over profit is split between the parties as defined in the real estate joint venture agreement.
The Real Estate Expert is ONLY paid based on the performance of the property; so if the money partner does not make money, the real estate expert does not make money.
Great Idea If You're a Private Money Lender
So as a private money investor wanting a secure a real estate investment without ANY of the work involved, a real estate joint venture is a very attractive option.
Think of it this way:  you invest 20-25% of the asset value and own at least 50% of it while you continue with your career, maintain your income and benefit from the tax savings the investment generates such as depreciation or loan interest deductions.
Find a successful Real Estate expert and ask to see their portfolio.  Once you are convinced they know how to generate above average returns, they have a system in place, then jump on the gravy train with them!